This is a message from Humanimo Foundation. The image and website is only in French but it has been translated by Erika R. for our anglophone clients.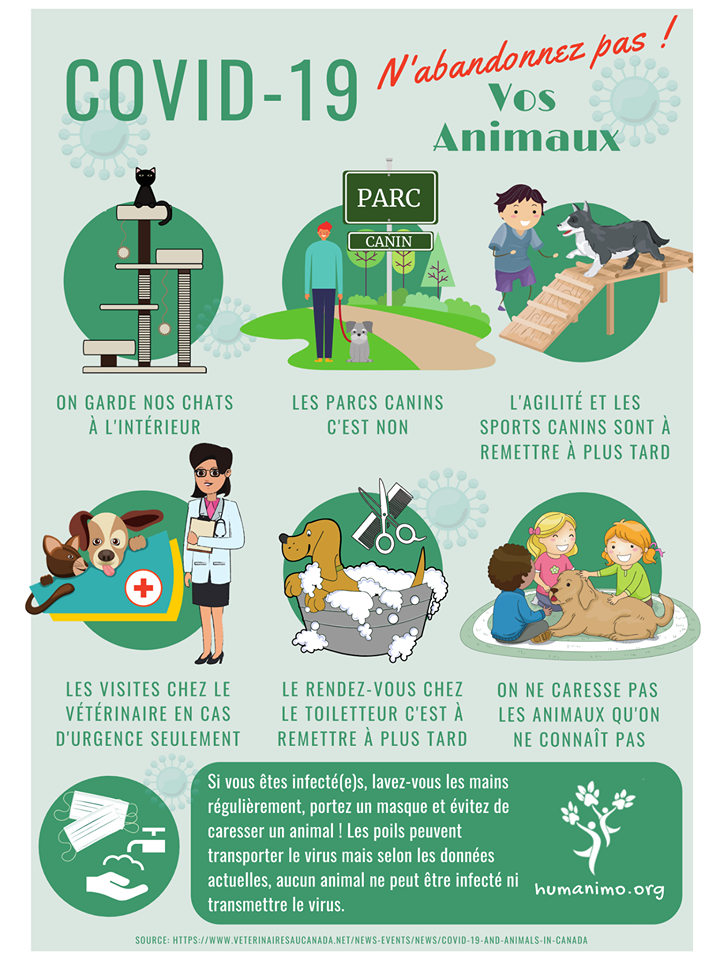 -Keep your cats indoors                       – Dog parks are a NO                              -Agility and sports training for dogs need to wait
-vet visits are for emergencies only    – reschedule the groomer appointment       – do not pet animals you don't know
-If you are infected, wash your hands regularly, wear a mask and avoid hugging your pet! Their fur can carry the virus but science has proven that no animal can become infected nor carry the virus. 
⚠️Covid-19 and Pets⚠️
To download the poster for free for your petstore or vet clinic, or for more information about COVID-19 as it relates to pets, visit https://humanimo.org/le-covid-19-et-les-animaux-de-compagn…/
🦠The virus can stay on the fur of animals and that is why it is best to keep cats indoors to prevent them from getting into contact with someone who is infected. 
🦠It is recommended to avoid dog parks so that your dog does not have contact with a potentially infected person. The government also recommends not going out for unnecessary reasons. 
🦠You can walk your dog on a leash and avoid contact with other humans that you do not know and contact with other dogs of potentially infected people. 
🦠Reschedule the groomer's appointment, its not urgent and the virus can stay longer on humid fur. It is recommended to wash your hands before and after petting an animal instead of washing the animal. 
🦠The virus can be on the pet's fur ONLY if someone infected touched the animal or if the animal rubbed on an item that was infected by someone with the virus. If not, there is no need to worry.
Last and foremost, DO NOT PANIC. The chances of the virus being on your pet's fur is very unlikely. You just need to stay vigilent and be careful!